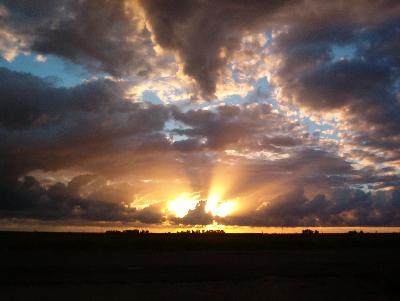 I think a hero is someone that lives for something bigger then themselves. Someone that would rather die then accept the jaded version of life that the world has to offer. I have a few modern day heroes, sometimes they are hard to notice but they are out there.
There are a couple guys at my work that have been married for a few years and I have never heard them complain about there wives. That is so rare… they are small heroes of mine.
My big sister is a hero of mine. She will be 25 in May. She is on a combat rescue team in the Air force. She flies in and bails out the marines when they are being shot at. I have seen her take down a 220-pound guy in submission fighting. She weighs 120 pounds. That is not why I think she is a hero though. She does everything she needs to do to be the best at her job she can possibly be. She is a perfect soldier yet an awesome wife. I think she could kill most people in under 15 secs, but when she is around her husband, she is an absolute girlie girl. They have spent about 8-9 months together in the three years that they have been married. Her husband has already went to Afghanistan and come back and she is scheduled for deployment. She believes in what she is doing and she has no problem dying doing it. Whether you agree with the war or not the commitment is admirable. She and her husband have both given up a lot to do something they believe in.
My big sister's husband is in the Army. While he was in Afghanistan he started a
Starbucks
so the troops wouldn't feel so far from home. They ended up making a lot of money off of the coffee so they donated all of it to children's schools in Afghanistan. He also is in the process of completing a documentary on being in Afghanistan for a year. It starts from boot camp all the way to when they went home. Check out some of his short films from
Afganistan here
.
My little sister is another hero of mine. She is 20. About a year ago, she decided to go to India and teach for free. A little after she made the decision, she met a guy that was awesome. I drove down from Idaho to Cali to check this guy out and make sure he was Ok (I am the big brother I think this is part of my job). I thought he was great and they started dating and defiantly fell in love. Despite this she still followed through with her plans, she is in India right now and has about ten months left. She also believes in what she is doing and was willing to give up what she wanted at the time for something bigger then herself.
Another hero of mine is my little brother. He is 18. In the past year and a half, he spent a month in India and a month in Africa working at an aids orphanage. He saved all the money for the trips himself and is pretty sure he wants to do work like that for the rest of his life when he graduates. He has two bands and is a really skilled musician. He is only 18 yet is so focused on helping people. He is one of the least judgmental people I know. He will hang out with anyone and especially the people that are actually needy. You know the people we all avoid because they are annoying or they don't fit our "click profile". He is only 18 yet he has caught a vision for something bigger then himself.
I couldn't end this post without mentioning my youngest sister. She is in the middle of high school. Remember how that was, peer pressure, pure insanity, everyone trying to figure out who they are. Yet in the middle of that, she has not become jaded and lost her identity to the cool, hopeless, skeptic that is most high schoolers. Sure she has flirted with it, at times becoming jaded, but has fought back each time to a place of clarity, a place of hope.
I have a few heroes, they don't always look like heroes but I think that is because they are fighting. Sometimes you win sometimes you loose, a hero just fights until he wins or dies.