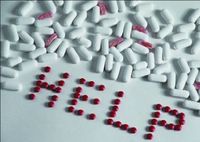 Since society has accepted the fact that we need to be stressed out, career minded individuals that eat horribly and rarely exercise, they have also accepted that truckloads of prescription drugs need to be taken to combat the new challenges of our life style.
The top 20 Pharmaceutical Companies made over
$240 billion
dollars in 2000. To put that in perspective, the "War on Terror" has only cost
$152 billion
dollars so far. How do they make so much money? Merck a leading Pharmaceutical company made 2.2 billion dollars off of Vioxx the first year it was on the market. It was later taken off the market because it was found to be harmful (more on this below). Zoloft a leading antidepressant drug that is regularly advertised on TV made over 2.1 billion dollars in 2000. This is hard to imagine! Think of all the Tsunami victims in Indonesia, India and Sri Lanka, do you think any of them are on antidepressants since they lost everything from family members to homes and jobs? Do prescription drugs really need to be recommended to you by a cheesy commercial? I thought that was a doctor or psychiatrists job.
Whether we should be taking these pills or not seems a forgotten question? Americans are taking pills by the millions. There are a few things we should consider about the drugs that society has so freely accepted as the answer to their lifestyle. I think the question of why do others make it without them is a valid question. Another would be what do these drugs really do to me? I read in the New York Times that Vioxx was taken off the market due to complications it caused its users, then after review it was put back on the market by a FDA Committee that had 10 voters with Pharmaceutical ties! With out their votes neither Vioxx, Celebrex nor Bextra would be back on the market. Keep in mind these are all drugs that make over $2 Billion a year. After the committee voted Pfizer and Merck's stock soared. Read the article it is rather scary
Here.
I understand some of these drugs are necessary and some people have valid reasons for taking them. I am more addressing the issue of a money driven industry that is supposed to be a health focused industry. We have to stop treating the symptoms and start addressing the problems. We have to stop caring about stock prices and money more then the wellbeing of the people we are supposed to be helping.
I would be scared to take these drugs. But, don't worry the government says they're fine. Doesn't a healthy diet, regular exercise and a family orientated life make more sense then a stressed out, pill filled, career driven life?
I know, I know... I'm crazy.